Week #2 Class
Week #2 class was all about making sauces.We learned how to make alfredo, pesto, marinara, and how to combine those sauces together to create delicious new and exciting flavor combinations. We also learned how to make home made mayo, soups, salsa, and compound butters. Chef Tim Flick has lots of neat tools to use in his executive kitchen setup. I've come to realize that I need to start my list of essentials to add to our kitchen. A stick blender and food processor are a must. I've also learned more about how to prepare meats and fish, especially salmon, for grilling or roasting. It's almost overwhelming how much information Tim is sharing with us each week on his low carb high healthy fat meal program. I'm starting to see results. Still hard to give up those German fries! They are one of my favorites. I'll sneak them every once in a while to treat myself when I've done especially well on eating healthier meal choices. You can't believe the difference in taste between home made mayo and what you buy in the store!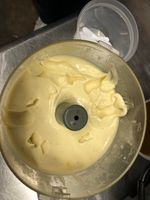 ______________________________________________________________________________________________________________________


Almost time for week #2
Week number 1's class was jammed packed with information. After the class last Wednesday I took a few days off for Fall Break. Traveling creates a unique set of problems when you're trying to eat out and still eat healthy and watch your carbs. I found myself ordering vegetables and salads instead of french fries or potatoes. I did splurge one day and had mashed potatoes. I did eat a few taco chips when we ate at a Tex-Mex restaurant. For the most part I did a good job of eating healthy. Lots of scrambled eggs, with vegetables and seasoned various ways for an early lunch between 10-11 AM. No other meals on most days except for a sensible dinner. When I did want a snack I chose low carb snacks like meat and cheese and did find some healthy snacks from Trader Joe's. I still miss my diet Coke and sweets to some degree but I think once I get further along in my healthy eating process I'll miss them less.
Tomorrow night I learn to make soups, sauces and marinades! I'll keep sharing my experiences with the Fueled Strength 4-Week Cooking and Wellness Course and I hope you follow along.
_______________________________________________________________________________________________________



Gene's Blog
Fueled Strength 4-Week Cooking and Wellness Course.
Week 1
Starting Wednesday evening I will be participating in Chef Tim Flicks 4-week Cooking and Wellness Course. My goal is to learn how to eat healthier and lose some weight in the process. I have been preparing myself for the course the last few weeks learning how to read labels on foods that we purchase and also cutting down on my carbs.
I hope you follow my journey to better health and read my blog as the classes progress and I learn how to:
1st: Understanding the Low Carb/High Health Fat Lifestyle / Knife Skills, how to roast, saute and grill meats and vegetables.
2nd: Avoiding Sugar and Carbs, how to make Soups, Sauces, Marinades, Compound Butters & Compotes.
3rd: Why to avoid vegetable oils, reading and understanding labels, how to make Mayonnaise, Aioli's, Dressings & Vinaigrettes.
4th: Iron Chef...Cook multiple dishes with teammates and demonstrate how to shop, prep and prepare meals for the week to help avoid fast food and impulse eating.