A New Way of Thinking
I've been trying to do some reading on these long winter nights. In Jimmy Moore's book Cholesterol Clarity he talks about the old way of thinking and the new way of thinking about Cholesterol and the numbers we see. According to Moore LDL is a calculated number not an exactly measured number. If our numbers are too high, typically above 200, then we might be told by our doctor that we should start taking a Staten drug to lower the numbers. Statens do have side effects including muscle aches and pains. I was taking a Staten for over 5 years and it finally caught up with me so I quit taking it. The result? My Cholesterol numbers were worse.
We've also been told for many years that a low-fat, low-cholesterol heart-healthy diet is good. After taking Tim Flick's Fueled Strength Meals Cooking Class I started to think differently. Tim's class is all about lowering Cholesterol by eating a low-carb high healthy fat diet fueled by fresh fruits, vegetables, and foods that are not processed. Now we watch the labels of everything we buy and if the carbs are too high we just put it back on the shelf. I've lost 9 inches and 25 pounds so far and it seems to be working for me.
Is one way of dieting better or worse? I think we all have to believe in something and if it works and is healthy then that's what we should do. I'll get blood work done again in February. I've been told that it might take 3-6 months for my Cholesterol levels to improve. I guess I'll find out in February if it's working or not. Stay tuned!
New Years Resolutions
The holidays are over. We've started a new year. Is one of your New Years Resolutions to loose weight? If so I recommend it. Deciding how to do it and stay on course is the hardest part. Phyllis & I took Tim Flicks Fueled Strength Cooking class and learned how to avoid carbs and eat healthier. One of my goals besides loosing weight was to lower my cholesterol. I'm down 23 pounds since the first of October. The holidays were a bit challenging with lots of sweets and carbs tempting me. We did very well and didn't gain any weight over the holidays. In a few weeks I'll get my cholesterol checked again and hopefully it has gone down since I've lost weight. The goal is to establish a new way of eating healthier without all the carbs. I hope your can stick to your New Years Resolutions whatever they are. Have a great New Year!

The Holidays Are Almost Here
Christmas is only a few days away. There are lots of parties to go to and lots of foods that are hard to pass up. My plan is to stay on my low carb meal plan as much as I can. There will be some cheating but we have to reward ourselves for doing well most of the time. Eat sensibly and stay away from the carbs if you can. Here's a delicious dish that we've come up with that is very carb friendly. It's Bacon Carbonara with asparagus. We used spaghetti squash in place of pasta. It tastes delicious. So far I'm down 21 pounds since October 1. Hoping to get down a few more and stabilize. I'm trying to loose the weight in hopes that my cholesterol will go down and I'll be healthier. It's all about motivation and self control when eating. Hope you have a very Merry Christmas.
Class is Over, Now What?

I'm happy to report that I'm down 18 pounds since the first of October. That includes almost 4 inches off the middle and one belt notch. Happiest about the belt notch actually!! I survived Thanksgiving eating Phyllis' home made dressing and mashed potatoes. The key was to get back on the low carb high healthy fat diet the next day. We even went to the movies and had popcorn, which isn't on our diet. But hey, you need to splurge once in a while to still have fun. We've been making some great meals and staying on the plan. Pictures below include Spaghetti Squash in place of pasta. We also used Spaghetti Squash in place of pasta with home made marinara meat sauce accompanied by roasted califlower and broccoli. We've been using califlower crust for pizza using chicken, alfredo sauce and cheese for a healthy alternative to traditional pizza crust. Our son made chicken with 40 cloves of garlic for us several years ago and we recreated his recipe for a healthy chicken main dish. You can eat healthy and loose weight without sacrificing some of the foods you enjoy. Let me know how you think the dishes we've made look to you! Healthy eating!
How to Handle the Holidays
Thanksgiving is coming up on Thursday. How will you handle the Holiday eating? Thanksgiving is a day I plan to cheat and eat what I want for one meal that day. I've been really conserving my carb intake this week in preparation. Even though I am still on my low carb high healthy fat diet we deserve to reward ourselves from time to time. It makes staying on the plan worth it. I've lost 17 pounds and 4 inches around the middle. I've been told I have a strong willpower. You have to have it to stay on your healthy eating plan. Happy eating this Thanksgiving! take a break then get back on the plan.
Here's a recap of Week #4 in the Fueled Strength Meals Cooking Class
It was Iron Chef Night at Fueled Strength Meals Cooking class last night. We pared off in groups of 3 or 4 and had to put into practice what we've learned about healthy meal prep the last 3 classes. Each team had to prepare three low carb healthy meals and explain what each dish contained and why we chose to cook those particular meals. Here's pictures of the 3 meals our group put together. Shrimp Stir Fry, Chicken Parm with roasted green beans and Lemon Butter Salmon with roasted zucchini. They were all delicious. Congrats to all the members of the class who prepared great meals. Chef Tim Flick even showed us proper meal presentation because after all we do eat with our eyes!
Week #4 class is tonight



The final cooking class is tonight for Fueled Strength Meals. We actually get to prepare our meals tonight. Chef Tim is opening his kitchen up and we can cook whatever we want using the low carb high healthy fat concepts he's been teaching us the last three weeks. I've learned a lot. It was hard over the weekend when I went on a two day hunting trip. Had to pack my lunch and eat in the tree stand. I did well though. Didn't gain any weight even though I ate more carbs than I like. I miss certain things still. Wanted a pumpkin pie blizzard from DQ really bad last night but the urge passed because I talked myself out of it. Still want it but not going to eat one till I get to my desired weight. Then I'll reward myself. Will post more in the next few days. Here's another delicious low carb meal...Mexican Califlower Rice Skillet Dinner.
Week #3 Class is tonight
Results are what I'm after by changing my eating habits. It's working! I've lost 13 pounds, two inches off my stomach and tightened my belt a notch. Phyllis & I are working together to come up with low carb healthy meal choices. They've been delicious. My goal is to keep the weight off, lower my cholesterol and not going back on high cholesterol medicine. It's was difficult at first to give up the carbs but I'm getting used to it. Two meals we came up with that were great were Parmesean crusted pork chops with grilled zucchini and mushrooms merinaded with a little pesto sauce, olive oil, salt & pepper. The second was a Chorizo omelet with avocado and home made salsa. Both were delicious. Continuing to exercise more also helps with weight loss.
It's working!


Eating right and increasing my exercise is working! Played two hours of pickleball on Sunday afternoon. Walked for 30 minutes Monday, Tuesday and Wednesday evenings. Checked my weight this morning and I've lost 10 pounds since I started watching my carbs and eating healthy. I've got another 10 to go. Loosing it slowly and keeping it off while hopefully lowering my cholesterol is the goal. It's a lifestyle choice that I'm willing to make.
No class this week....taking a Fall Break
Last Week we were taught about sauces and how to make them. The "5 Mother Sauces" upon which healthy cooking is based include: Cream based, Brown based, Tomato based,fish stock and Beloute or thickened chicken stock. From these several combinations can be made. If you want to thicken a sauce or stock then you can add a mixture of corn starch and water to boiling stock. Be sure to mix the corn starch in cold water before adding to the boiling stock. The key to eating healthy is to avoid processed and gluten foods. It's definitely a lifestyle change. I've had people ask me if it's working. I say yes I've lost a few pounds and most importantly lost 2 inches around my stomach! My goal in addition to weight loss is to lower my cholesterol and improve my LDL. One of the delicious sauces that are easy to make is alfredo. It can be mixed with pesto sauce or marinara for a totally different taste.
Week #2 Class
Week #2 class was all about making sauces.We learned how to make alfredo, pesto, marinara, and how to combine those sauces together to create delicious new and exciting flavor combinations. We also learned how to make home made mayo, soups, salsa, and compound butters. Chef Tim Flick has lots of neat tools to use in his executive kitchen setup. I've come to realize that I need to start my list of essentials to add to our kitchen. A stick blender and food processor are a must. I've also learned more about how to prepare meats and fish, especially salmon, for grilling or roasting. It's almost overwhelming how much information Tim is sharing with us each week on his low carb high healthy fat meal program. I'm starting to see results. Still hard to give up those German fries! They are one of my favorites. I'll sneak them every once in a while to treat myself when I've done especially well on eating healthier meal choices. You can't believe the difference in taste between home made mayo and what you buy in the store!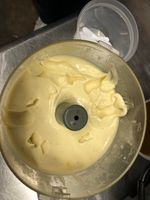 ______________________________________________________________________________________________________________________


Almost time for week #2
Week number 1's class was jammed packed with information. After the class last Wednesday I took a few days off for Fall Break. Traveling creates a unique set of problems when you're trying to eat out and still eat healthy and watch your carbs. I found myself ordering vegetables and salads instead of french fries or potatoes. I did splurge one day and had mashed potatoes. I did eat a few taco chips when we ate at a Tex-Mex restaurant. For the most part I did a good job of eating healthy. Lots of scrambled eggs, with vegetables and seasoned various ways for an early lunch between 10-11 AM. No other meals on most days except for a sensible dinner. When I did want a snack I chose low carb snacks like meat and cheese and did find some healthy snacks from Trader Joe's. I still miss my diet Coke and sweets to some degree but I think once I get further along in my healthy eating process I'll miss them less.
Tomorrow night I learn to make soups, sauces and marinades! I'll keep sharing my experiences with the Fueled Strength 4-Week Cooking and Wellness Course and I hope you follow along.
_______________________________________________________________________________________________________

Gene's Blog
Fueled Strength 4-Week Cooking and Wellness Course.
Week 1
Starting Wednesday evening I will be participating in Chef Tim Flicks 4-week Cooking and Wellness Course. My goal is to learn how to eat healthier and lose some weight in the process. I have been preparing myself for the course the last few weeks learning how to read labels on foods that we purchase and also cutting down on my carbs.
I hope you follow my journey to better health and read my blog as the classes progress and I learn how to:
1st: Understanding the Low Carb/High Health Fat Lifestyle / Knife Skills, how to roast, saute and grill meats and vegetables.
2nd: Avoiding Sugar and Carbs, how to make Soups, Sauces, Marinades, Compound Butters & Compotes.
3rd: Why to avoid vegetable oils, reading and understanding labels, how to make Mayonnaise, Aioli's, Dressings & Vinaigrettes.
4th: Iron Chef...Cook multiple dishes with teammates and demonstrate how to shop, prep and prepare meals for the week to help avoid fast food and impulse eating.