BRACING FOR IMPACT: "Life-Threatening Storm" to Make Landfall Along Mid-Atlantic Coast
By: David Shepherd, Director of News & Public Information, Forecaster

MID ATLANTIC -- The east coast is bracing for a direct impact by, what forecasters warn, could be a "life-threatening storm" of historic proportions.
80 members of the Indiana Task Force 1 left the state this week for Raleigh, North Carolina, where FEMA will give them instructions on how they can help in the relief efforts.
AccuWeather meteorologists believe that Florence will reach the Carolina or Virginia coasts and pose a serious threat to lives and property late this week.
"There will be extensive damage inflicted by Hurricane Florence due to its predicted path, which is perpendicular to the coast, rather than at an oblique angle. This means the east and southeast winds on the east side of the storm are going to be most effective in driving storm surge flooding as the wind and waves pound the coast. That is one of many factors in why AccuWeather is estimating $30 billion in economic impact and damage from Florence," AccuWeather Founder and President Dr. Joel N. Myers said.
[STORY CONTINUES BELOW]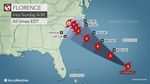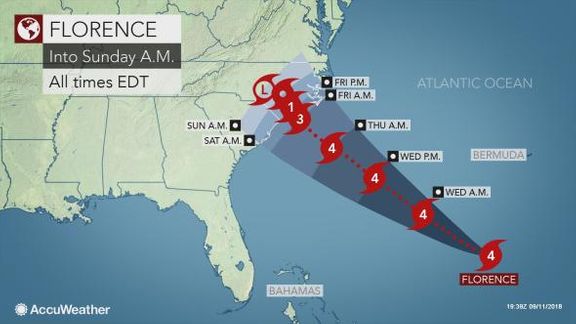 [PHOTO: AccuWeather]
"While other sources are monitoring the intensity of the storm, AccuWeather emphasizes that although Florence will lose wind intensity as it approaches the coast and moves inland, we are focused on the overall impacts of the storm on people and their lives. The maximum damage from hurricanes is generally caused by flooding on land. Typically, the second most costly aspect of a hurricane occurs along the coast as an angry sea is driven inland due to powerful onshore winds, especially when there is a large fetch and particularly when a storm moves consistently and perpendicular to the coast. Following inland flooding and coastal damage, winds, on average, are often the next biggest cause of hurricane damage and economic costs," Myers said.
Officials in North Carolina, South Carolina, Virginia, Maryland and Washington D.C. have all declared States of Emergency ahead of the hurricane's arrival.
If you are planning a trip to the Mid-Atlantic this week, or if you have other interests in the area, you should monitor the latest forecast carefully.
This will be a monster storm and possibly one that will go down in the record books.
Stay with WITZ Radio News on-air and here on our website for the latest information on this potentially devastating forecast.