Monday is the big day!  It's the first time a solar eclipse will be visible from coast-to-coast since June 8, 1918.
Here in Dubois County, we won't see a total eclipse, but we'll get pretty close.  No matter where you are in the county, you'll see about 97 percent totality (which is a pretty amazing show).
Here are the details for Dubois County….
LOCATION:  Dubois County
BEGIN: Monday, August 21, 2017 – 12:57 p.m. (EST)
MAX. COVERAGE: Monday, August 21, 2017 – 2:25 p.m. (EST)
END: Monday, August 12, 2017 – 3:50 p.m. (EST)
TOTALITY:  97%
Expect Heavy Traffic Locally
While Dubois County won't see totality, we will have 97% coverage.  However, just to our south in places like Hopkinsville and Madisonville, Kentucky, they will see the total eclipse.
With millions expected to converge on Kentucky through Monday, INDOT is warning roadways like U.S. 231, 41 and other interstates heading to Kentucky will likely see heavier-than-normal traffic.
You are urged to use extra caution on the roadways.
Following the eclipse, transportation officials expect a "mass exodus" of people leaving Kentucky.
NASA Offers Eclipse Safety Tips
Always inspect your solar filter before use; if scratched or damaged, discard it. Read and follow any instructions printed on or packaged with the filter.
Always supervise children using solar filters.
Stand still and cover your eyes with your eclipse glasses or solar viewer before looking up at the bright sun. After looking at the sun, turn away and remove your filter — do not remove it while looking at the sun.
Do not look at the uneclipsed or partially eclipsed sun through an unfiltered camera, telescope, binoculars, or other optical device.
Similarly, do not look at the sun through a camera, a telescope, binoculars, or any other optical device while using your eclipse glasses or hand-held solar viewer — the concentrated solar rays will damage the filter and enter your eye(s), causing serious injury.
Seek expert advice from an astronomer before using a solar filter with a camera, a telescope, binoculars, or any other optical device. Note that solar filters must be attached to the front of any telescope, binoculars, camera lens, or other optics.
If you are within the path of totality (https://go.nasa.gov/2pC0lhe

(link is external)

), remove your solar filter only when the moon completely covers the sun's bright face and it suddenly gets quite dark. Experience totality, then, as soon as the bright sun begins to reappear, replace your solar viewer to look at the remaining partial phases.
Outside the path of totality, you must always use a safe solar filter to view the sun directly.
If you normally wear eyeglasses, keep them on. Put your eclipse glasses on over them, or hold your handheld viewer in front of them.
How to Make a Pinhole Projector
If you weren't able to get your hands on a pair of certified eclipse viewing glasses, you can always try making a homemade "Pinhole Projector" to safely view the event.
Here are instructions on how to make a proper projector from www.timeanddate.com ….
You Need:
What to Do: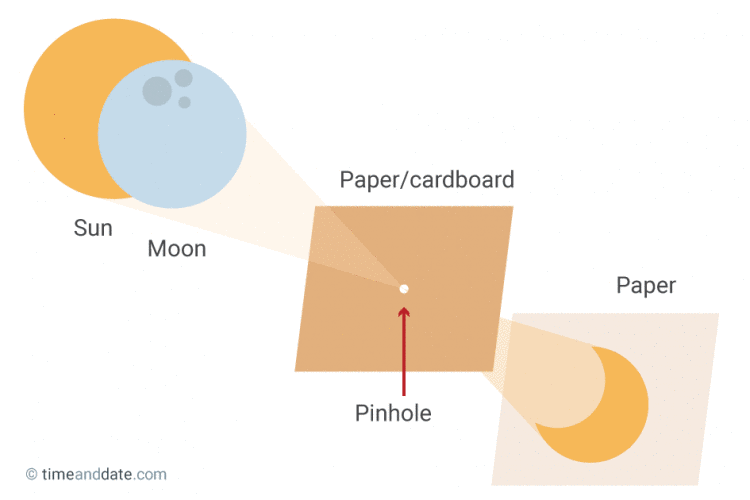 To make a quick version of the pinhole projector, take a sheet of paper and make a tiny hole in the middle of it using a pin or a thumbtack. Make sure that the hole is round and smooth.
With your back towards the Sun, hold 1 piece of paper above your shoulder allowing the Sun to shine on the paper.
The 2nd sheet of paper will act as a screen. Hold it at a distance, and you will see an inverted image of the Sun projected on the paper screen through the pinhole.
To make the image of the Sun larger, hold the screen paper further away from the paper with the pinhole.
A box projector works on the same principles, it requires a little more time and a few extra items to construct, but it is more sturdy.